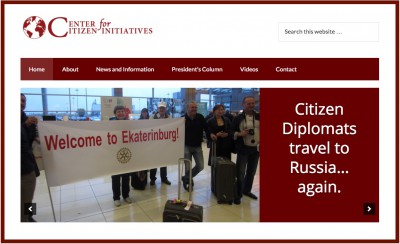 Welcome to the Center for Citizen Initiatives' new website. This site will help support a series of new programs we have planned for 2016 and beyond. Those of you who have been previously involved with CCI know that after more than two decades of running major programs, in recent years we had become mostly inactive. That was OK: US-Russia relations were now relatively good, and Russia was clearly on its way to building a prosperous society. But then I watched as over the last few years US-Russia relations degenerated beyond anything anyone could have expected.
In addition, sanctions on Russia were affecting thousands of those Russians we have known, worked with and loved over the past 30 years. I became increasingly agitated about the fact that we no longer appeared to have the means to make a difference.
I asked myself, "How could our past CCI work be leveraged to make a difference in 2016?"  With no staff, no up-to-date public relations and limited personal funds, several unexpected miracle-like happenings began occurring. For instance ….
A call came from a Bay Area web developer, Bob Spies of Flying Seal Systems, saying "Someone sent me one of your emails. I went to your website and see that it needs considerable help." (It was actually near dead for years with little activity.)  He also said, "I propose that I revamp and upgrade your CCI website pro bono." I hastily made an appointment to learn more about this web developer and found Bob to be genuinely concerned and wanting to do something to make a difference in the world. Shortly after Bob began his work, he was joined by graphic designer Celena Pete of Green Typewriter Marketing & Design, who designed an updated CCI logo and assisted with website visual design, also pro bono.
Then a retired Air Force officer, Theodore (Ted) McIntire, began emailing, sharing valuable ideas and saying he was interested in citizen diplomacy and "Human Security" (Google it). After many emails he suggested that he would be interested in working pro bono for CCI. Following a Human Security stint in Spain, he returned to the US, drove across the country and landed at my place on January 7th. We have since been transferring ideas and "how-to" back and forth at a furious pace regarding what CCI can do over the next year or two.
At the end of 2015 CCI still had unspent funds for an orphanage program that was no longer in operation. Judith Watkins, the niece of our deceased donor of these funds, Nika Thayer, authorized the remaining funds to be used for CCI's new work in 2016-2017. These funds will not be used for salaries. Both American and Russian participants will pay for their own travel and related costs.  Homestays in both countries will be part of these programs.
So with Bob, Celena, Ted and Judith, we have a new website ready to launch in early February and are developing an array of programs for 2016-2017. The best of CCI's 1980s, 1990s and 2000s program designs will be used again. Are they still relevant?  Absolutely!  We are working weekends and late into the night to make it all happen. Are we excited? YES! We are extremely grateful that some of our American and Russian CCI alums with whom we have spoken are ready to participate with us again in the coming months.
It seems the CCI magic is working again! We remember well when people (like you), resources, and support began materializing in the 1980s. So it was for two decades. The third decade was also great as we wound down our programs. Americans and Russians were in good relations with each other, and it seemed time to "declare victory and go home" in 2010.  My book, The Power of  Impossible Ideas; Ordinary Citizens' Extraordinary Efforts to Avert International Crises, was researched, drafted, edited and finally published in 2012 and speaking tours followed. The book captures the phenomenal efforts made by American and Russian citizens that helped end the original Cold War.
Now with a new Cold War upon us, we must again inject ourselves into the political currents, expose misinformation, supplant it with truth, and build public awareness and programs to focus on cooperative support rather than demonizing.
As I write this, I'm off to Russia with Ted McIntire to introduce him to our Russian alumni across three regions. Stay tuned for my next Column after our return. In the meantime, please look around our website to learn more about CCI and our upcoming plans.
Sharon
President and Founder