This is a very quick Russia trip update, written during a rare free moment. We're currently in Krasnodar–the third of the four locations included on our Russia trip.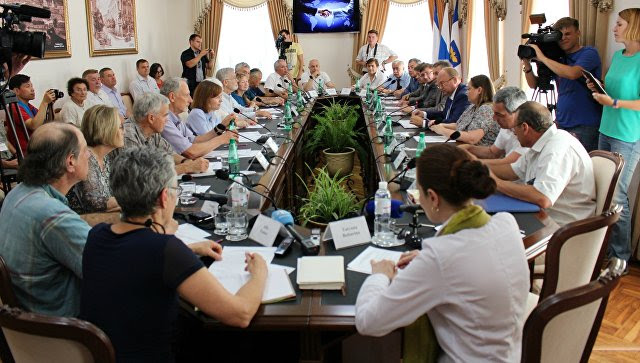 Our 20 group members assembled in Moscow from various locations on June 16 and 17. Our stay in Moscow was relatively short, but we had time to meet with local journalists, visit a medical clinic, and visit the incredibly moving Gulag museum.
From Moscow we traveled to Crimea, where we spent time in Yalta, Simferopol, and Sebastopol. We enjoyed the Crimean peninsula's incredible beauty and learned about some of the events that have made it a major part of western history. But our primary reason for being in Crimea, as has been the case everywhere on our trip, was to learn what the people there think. Very few Americans have been to Crimea recently–most of what we know about it is based on media reports from reporters who aren't actually there. The picture painted by the real people we met was very different than the one we know via our mainstream media. We'll have much more to say about this after we get home and have a chance to put together our notes, photos, and videos.
From Crimea we flew to Krasnodar where we are currently. Here we've met with business representatives and community groups, as well as seeing some of the highlights of this rapidly growing city. We've done some joint brainstorming with groups with which we've met as to how we can work together in the future to build bridges between our citizens and communities to help move away from the dangerous state of confrontation that currently exists.
Tonight we leave for St. Petersburg. As has been the case for most of our trip-to-date, our schedule there will be pretty intense. So it's likely there won't be much time for further updates until a week from now when the trip is over. However, once we're home, we plan to draw from our collection of observations, experiences, photos, and videos to bring you as much of what we've learned here as we possibly can.
In the meantime, please visit the June 2016 Trip and World News and Analysis sections of our website to see the latest articles posted there, some by current trip members.
Bob Spies
CCI Trip Member and Volunteer