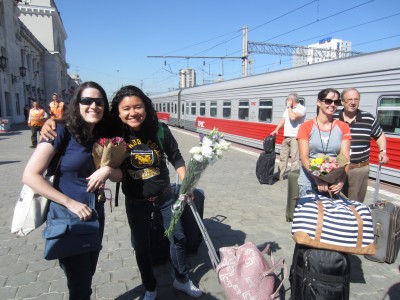 June 15- 30, 2016, I will lead a group of forward-thinking, informal citizen diplomats to Moscow, Krasnodar, St. Petersburg and the newly rejoined Crimea (Yalta, Simferopol, and Sevastopol). Our chief objective will be to get a realistic understanding of Russia today, from students at their universities to policy makers in their offices. We will engage in informal discussions with Russian businessmen and women, NGO organizers, physicians, educators, working journalists and families in their homes. Dividing up in groups of four Americans each day, we will have different experiences which will later develop into a composite picture of what collectively we have learned.
This will be no ordinary trip. We will catch metros and taxis and forego tourist buses with tour guides. We will try to squeeze in a few cultural activities. I wouldn't want you to miss the truly exceptional palaces and landmarks, like the Yalta palace where Roosevelt, Churchill and Stalin met to divide up the spoils of WWII. It is lovely beyond imagination. The place reeks of history! If you want more cultural activities, local professional guides can be arranged. And you can veer off by yourself from the planned meetings as you wish.
This will be an economy trip, low on hotel costs, high on adventure. CCI will not add on a surcharge for the trip. It's high season, but the current dollar/ruble rate will be beneficial to our pocketbooks. I project that the cost will be something around $2500 from JFK back to JFK. More on this after I discuss with GoToRussia's booking agent.
If you feel inspired to travel on a trip of this type, or have questions, please contact me, and I will send you an application. Also feel free to contact me if you have questions about the trip.
Welcome to the new world of constructive, intentional Citizen Diplomacy. We made it work in the 1980's, and now it's time to make it work again!
Sharon Tennison
sharon@ccisf.org